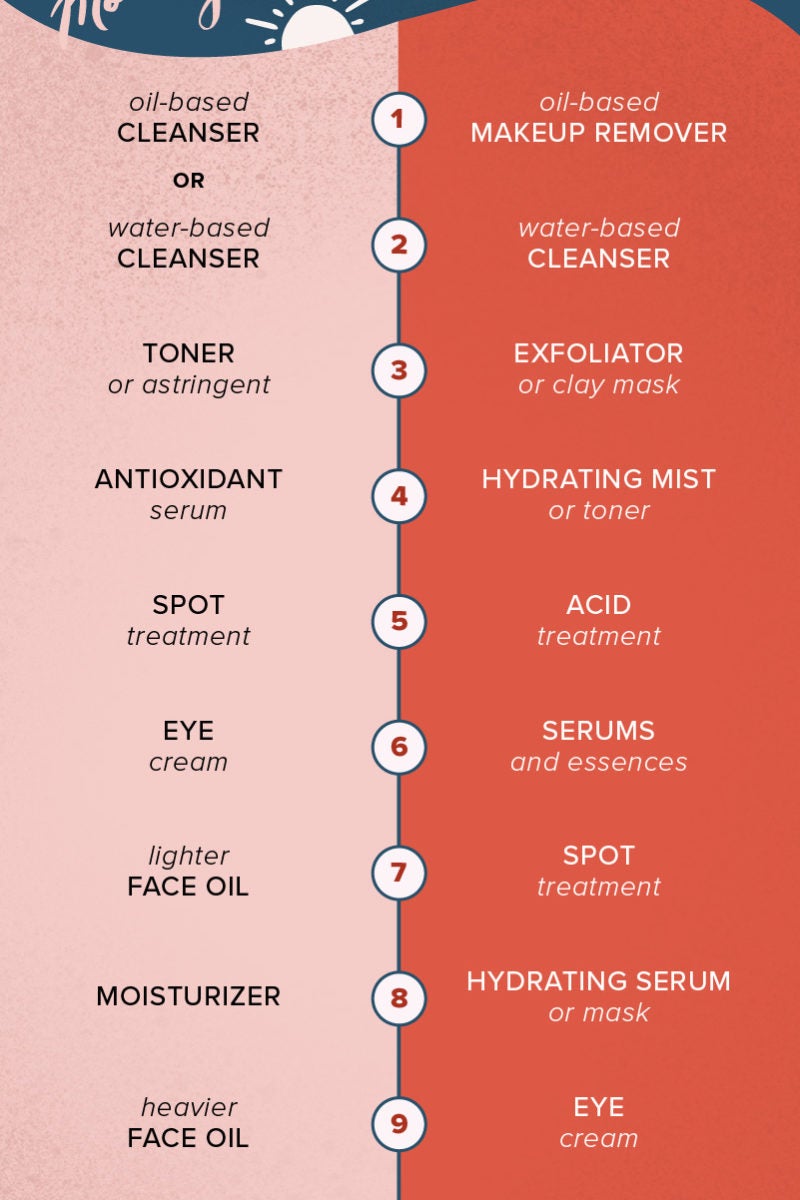 We include products we think are useful for our readers. If you buy through links on this page, we may earn a small commission. Here's our process.
Whether you want a simple three-step routine for the morning or have time for a full 10-step regimen at night, the order you apply your products in matters.
Why? There isn't much point in having a skin care routine if your products don't get a chance to penetrate your skin.
Read on to learn more about how to layer for maximum impact, which steps you can skip, products to try, and more.
Morning skin care routines are all about prevention and protection. Your face is going to be exposed to the outside environment, so necessary steps include moisturizer and sunscreen.
Basic morning routine
Cleanser. Used to remove grime and residue that's built up overnight.
Moisturizer. Hydrates the skin and can come in the form of creams, gels, or balms.
Sunscreen. Essential for protecting the skin against the damaging effects of the sun.
Step 1: Oil-based cleanser
Step 2: Water-based cleanser
Step 3: Toner or astringent
Step 4: Antioxidant serum
Step 5: Spot treatment
Step 6: Eye cream
Step 7: Lighter face oil
Step 8: Moisturizer
Step 9: Heavier face oil
Step 10: Sunscreen
Step 11: Foundation or other base makeup
Focus on repairing the damage done during the day with thicker products at night. This is also the time to use anything that makes skin sensitive to sunlight, including physical exfoliants and chemical peels.
Basic evening routine
Makeup remover. It does what it says on the tin, even removing the makeup residue you can't see.
Cleanser. This will get rid of any lingering dirt.
Spot treatment. Breakouts can be effectively treated at night with anti-inflammatory and drying products.
Night cream or sleep mask. A richer moisturizer to assist with skin repair.
Step 1: Oil-based makeup remover
Step 2: Water-based cleanser
Step 3: Exfoliator or clay mask
Step 4: Hydrating mist or toner
Step 5: Acid treatment
Step 6: Serums and essences
Step 7: Spot treatment
Step 8: Hydrating serum or mask
Step 9: Eye cream
Step 10: Face oil
Step 11: Night cream or sleep mask
Ten-step routines aren't to everyone's taste, so don't feel pressured to include every step in the above lists.
For many people, a good rule of thumb is to apply products thinnest to thickest — for however many products that may be — as they move through their skin care routines.
The most important thing is finding a skin care routine that works for you and that you'll follow. Whether that involves the whole shebang or a simplified ritual, have fun experimenting.