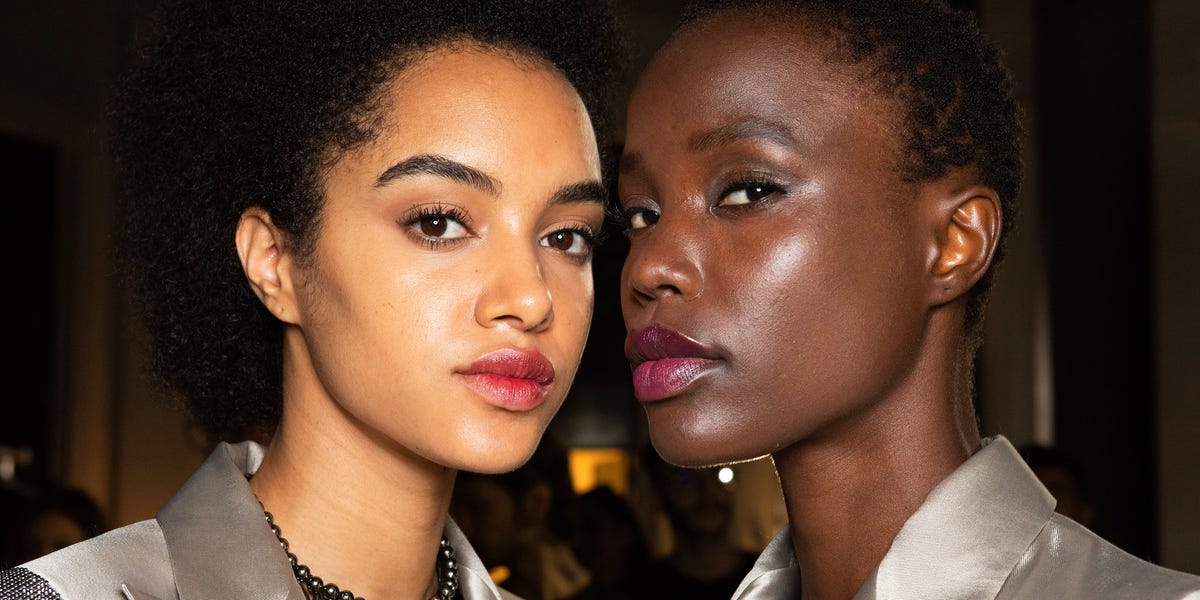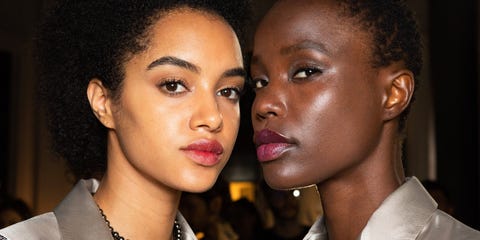 Rosdiana CiaravoloGetty Images
The Daily Gel
Hydro Boost Gel-Cream
Neutrogena ulta.com
$24.99
Use Neutrogena Hydro Boost Gel-Cream to instantly quench and provide long-lasting moisture relief for your extra-dry skin. This daily facial lotion helps quench extra-dry skin and keeps it looking smooth, supple, and hydrated day after day. The unique gel-cream formula absorbs quickly like a gel, and has the long lasting moisturizing power of a cream. It is formulated with hyaluronic acid, a hydrator found naturally in the skin, attracts moisture and locks it in. This moisturizer formula for dry skin results in more supple, healthy-looking, and smooth looking skin. From a Dermatologist Recommended Brand, this gel-cream face lotion is oil-, dye-, and fragrance-free and non-comedogenic. It can be worn alone or under makeup. Add this hyaluronic acid gel cream moisturizer to your daily at-home hydrating self care routine.
Benefits:
Helps instantly quench extra-dry skin and leaves it looking smooth, supple, and moisturized
Hyaluronic acid is a hydrator found naturally in the skin, attracts moisture and locks it in
Face cream provides intense moisturizing power that absorbs quickly into skin
Moisturizer is oil-, dye-, and fragrance-free and can be worn alone or under makeup
Non-comedogenic face gel cream from a Dermatologist-Recommended brand
Face lotion provides long-lasting moisture relief for your extra-dry skin day after day
Daily moisturizer relieves intense dryness to restore skin's natural barrier against moisture loss
The Skin-Saving Serum
AGE Bright Clearing Serum
Dermalogica dermstore.com
$65.00
AGE Bright Clearing Serum combats blemishes and thwarts the signs of aging. Enriched with niacinamide and salicylic acid that reduce fine lines and breakouts, the serum minimizes the appearance of dark spots, redness and inflammation to promote a clearer, brighter complexion.
Key Benefits:
Clears impurities
Hydrates and brightens 
Targets aging skin concerns
Smooths skin tone
This Clarifying Mask
Blue Tansy Resurfacing Clarity Mask
Herbivore sephora.com
$48.00
A truly natural clarifying and cooling gel face mask, features white willow bark (natural BHA), fruit enzymes (natural AHA), and blue tansy to gently exfoliate, smooth, and resurface the skin.
Solutions for:- Acne- Redness- Pores
If you want to know more…This face mask's star ingredient—blue tansy oil—is naturally high in azulene and a powerful anti-inflammatory that soothes irritated skin and reduces redness. It also contains white willow bark, a natural beta hydroxyl (BHA) that is high in salicylic acid; natural alpha hydroxyl acids (AHAs), including papaya and pineapple, that work to gently exfoliate and rid skin of dead cells; and aloe leaf to gently decongest and unclog pores for a smoother, healthier-looking complexion.
What else you need to know:This product is vegan, noncomedogenic, cruelty-free, and formulated without gluten and silicone.
Clean at SephoraClean at Sephora is formulated without a list of over 50 ingredients, including sulfates (SLS and SLES), parabens, phthalates, and more. For the full list, check out the Ingredients tab.Color of this mask may vary due to natural ingredients. Color may also fade over time but this does not change its efficacy. It is normal for this product to change from a deep blue to a mossy green/gray.
The Sun Protector
UV Clear Broad Spectrum SPF46 Facial Sunscreen
EltaMD dermstore.com
$36.00
UV Clear Broad-Spectrum SPF 46 by EltaMD provides protection to your complexion to shield your skin from harmful UVA and UVB rays. Fragrance-free, this face sunscreen's smooth formula includes sodium hyaluronate to moisturize while lactic acid refines the skin to clear pores and reduce shine.
Face Sun Care: Face SunscreenIdeal for these Concerns: Aging Skin, Oiliness, Dryness and Dehydration, Sun Damage, Free Radical Damage, Large Pores, Sunburn, Rosacea, AcneIdeal for these Skin Types: Acne-Prone Skin, Sensitive SkinPreferences: Phthalate-Free, Fragrance-Free, Oil-Free, Clean, Certified Cruelty-Free, Non-Comedogenic, Paraben-Free, Dermatologist Approved, Sulfate-FreeWellness | External Factors: UV Ray Protectors and TreatmentsKey Ingredient(s): Vitamin E, Lactic Acid, Niacinamide, Antioxidants, Hyaluronic Acid, Zinc OxideApplication Area: FaceSPF: SPF 30-40
This Perfect Serum
Dreamskin Skin Perfector
Dior sephora.com
$85.00
What it is: A skincare formula that works like a primer to hydrate, blur the look of imperfections, and visibly even out skin tone for immediate and lasting results.
Skin Type: Normal, Dry, Combination, and Oily
Skincare Concerns: Dark Spots, Pores, and Uneven Texture
Formulation: Lightweight Serum
This Dry Skin Minimizing Moisturizer
Hyaluronic Acid Moisturizer for Face
L'Oréal Paris amazon.com
$13.19
LIGHTWEIGHT FACIAL MOISTURIZER : This water based moisturizer delivers all the hydration of a face lotion, but in a water-like, quickly absorbing, gel face moisturizer. Leaves skin feeling comfortable, soothed and nourished with moisture.
LOTION FOR EXTRA DRY SKIN: Formulated with Hyaluronic Acid and Aloe Water, this moisturizer for face provides hydration that absorbs quickly and keeps skin hydrated for up to 72 hrs.
L'OREAL PARIS HYDRA GENIUS: A unique line of daily liquid care moisturizers, formulated with aloe water and 3 types of Hyaluronic Acid for quick absorption and 72H moisture-lock power.
REPLENISH SKIN WITH FACIAL MOISTURIZER: gift your skin a daily dose of hydration from L'Oreal Paris skin care, whether day creams, night creams, or moisturizers with SPF, they provide your skin essential moisture to keep skin healthy.
PERFECT TO PAIR WITH: Try using after L'Oréal Paris Revitalift Derm Intensives Hyaluronic Acid facial serum, a fragrance-free, lightweight serum that plumps and hydrates your skin while visibly reducing wrinkles.
The Radiance Booster
Poreless Exfoliating Essence
bareMinerals dermstore.com
$24.00
A gentle daily exfoliating liquid, PORELESS Exfoliating Essence from bareMinerals helps minimize the appearance of pores and reduce excess oil for healthy-looking skin. Rich in exfoliating superfruit acids and nutrient-packed prebiotics, this weightless essence helps refine and smooth the skin for a balanced and healthy-looking glow.
This All-Natural Balm
Take the Day Off Cleansing Balm
CLINIQUE ulta.com
$29.50
Clinique's lightweight Take The Day Off Cleansing Balm quickly dissolves tenacious eye and face makeups as well as sunscreens. It transforms from a solid balm into a silky oil upon application. It cleans thoroughly, rinses off completely, and gently helps remove the stress of pollution so skin looks younger, longer.
Solutions For:
Makeup Removal
Cleansing
Clinique Clean Philosophy:
No parabens
No phthalates
No fragrance
Just happy skin
What else is this product free of?
Vegan
Gluten Free
Free of Denatured Alcohol
Free of Synthetic Colours
SLS Free
SLES Free
Sulfate Free
Formula Facts/Benefits:
Allergy Tested
Ophthalmologist tested
Appropriate for contact lens wearers
Non-greasy
Non-drying
For all skin types
This Illuminating Gel
Mario Badescu Enzyme Cleansing Gel
Mario Badescu sephora.com
$14.00
What it is: A bestselling daily face wash that uses papaya and grapefruit extract.
Skin Type: Normal, Dry, Combination, and Oily
Skincare Concerns: Oiliness, Dullness and Uneven Texture
Formulation: Gel
The Go-To Cleanser
Purifying Face Cleanser
Tula ulta.com
$28.00
TULA's Cult Classic Purifying Face Cleanser is a refreshing probiotic gel cleanser that goes deep into pores to remove impurities without stripping or over-drying skin. TULA's signature probiotics + superfoods promote skin's natural balance and radiance. Leaves skin looking glowing, and primed for the rest of your skin care routine. Suitable for all skin types and ages, and especially excellent for dry skin.
What's Inside:
Probiotics: The core ingredient of all TULA products, they're clinically proven to help lock in moisture and soothe the appearance of inflammation
Lactic acid naturally cleanses and exfoliates to reveal healthy, radiant looking skin
Chicory root is a natural anti-inflammatory prebiotic that helps boost the appearance of firmer skin
Turmeric root is a powerful antioxidant that helps reduce signs of inflammation. Blueberries are rich in antioxidants and help protect from free-radicals
The TULA difference:
TULA products are 100% free from phthalates, parabens, toxins, carcinogens, mineral oil, sodium laurel sulfate, and harmful preservativesAll products are cruelty-free
This Magnificent Moisturizer
Daywear Multi-Protection Anti-Oxidant 24H-Moisture Crème Broad Spectrum SPF 15
ESTE LAUDER nordstrom.com
$34.00
What it is: A high-performance moisturizer that defends skin against signs of premature aging and diminishes the appearance of aging.
What it does: This hydrating formula infuses skin with an intense surge of moisture that lasts for 24 hours. It includes the brand's proven Super Anti-Oxidant Complex and broad-spectrum sunscreen, and it reduces the first signs of aging, such as dullness and fine, dry lines. Your skin is left refreshed.
This Rejuvenating Serum
Advanced Génifique Youth Activating Serum
Lancôme sephora.com
$178.00
What it is: An advanced, anti-aging face serum with bifidus prebiotic that targets the 10 key signs of aging, visibly improving radiance in just seven days.
Skin Type: Normal, Dry, Combination, and Oily
Skincare Concerns: Fine Lines and Wrinkles, Dullness, and Loss of Firmness and Elasticity
Formulation: Serum
The Glow-Inducer
C-Rush Vitamin C Gel Moisturizer
Courtesy
Olehenriksen sephora.com
$46.00
Maya here: mark my words, you're guaranteed to have a good morning if you lather this cream all over your face. If you're tired of applying moisturizer multiple times per day because your skin can't escape dryness, this long-lasting hydrator will be your new holy grail. It has a creamy gel consistency full of vitamin C for a luminous, far-from-dull effect. It gives your skin this inescapable glow. Not to mention its light citrus scent will remind you of the tropics. 
The CBD Eye Cream
Universal C Eye Perfector
Courtesy
BeautyStat beautystat.com
$65.00
If your eye area needs a lift, this right here will firm the skin right up in no time. It has two star ingredients worth noting: vitamin c, the end-all-be-all for bright and awake under-eyes and CBD (which you don't often find in eye creams) to act as an anti-inflammatory agent to soothe the sensitive skin around the eye area. Together, those two do everything you'd want in an eye cream, which is to brighten, smooth and soothe. 
This Next-Level Sleeping Mask
Velvet Sleeping Mask
Courtesy
Sisley Paris nordstrom.com
$140.00
I know, I know: this price tag is a pretty penny. However, I've waxed poetic about how much this mask is worth it, and I'll say it again. Sleeping masks are tricky. You don't want a slippery formula that will smear all over your pillows, but it also can't be too tacky, sticky and dry in five seconds. This special texture treads the line while being super hydrating and absorbent at the same time. Using natural ingredients, like saffron flowers, thyme honey and shea butter, I wake up with the most supple soft skin with the mask. And everyone deserves to wake up like that.
This Detoxifying Mask
Illuminate Clarifying Face Mask
Courtesy
Beneath Your Mask beneathyourmask.com
$70.00
This cruelty-free clay mask is what clear skin dreams are made of. Made with a myriad of detoxifying clays and an impressive list of plant-powered ingredients and vitamins, this mask will push all the bad stuff out of your pores to let in light. It's called illuminate for a reason—your skin will glow and feel squeaky clean post-mask. 
The Beauty Sleep Dream Cream
Skin Renewing Night Cream
Courtesy
CeraVe ulta.com
$16.99
Wondering why this specific night cream is steadily at the top of Amazon's wish list and has hundreds of five-star reviews? Because it's that good and it's under $20. Dermatologist-backed brand CeraVe knows a lot about anti-aging and the ingredients in this night cream work together to diminish the appearance wrinkles and fine lines overtime. It uses a combo of ceramides to strengthen the skin barrier overnight and hyaluronic acid for hydration. 
This Luxurious Body Scrub
Body Scrub
Courtesy
Acqua di Parma acquadiparma.com
£50.00
Unlike other body scrubs that will scratch and irritate the skin, this one uses gentle grains of brown sugar, jojoba seeds and orange peel for a soothing skin exfoliation. And of course, it carries the Acqua Di Parma legacy of an amazing scent using notes that will give you a sweet whiff of the Mediterranean sea to transform you shower into a full-out spa session.
This Star Sunscreen
Unseen Sunscreen SPF 40
Courtesy
Supergoop! sephora.com
$44.00
Meet the MVP of sunscreens (yeah, I said it). Supergoop! makes applying sunscreen cool again, thanks to its incredibly innovative formula that puts all other thick, gloopy sunscreens to shame. It's a truly universal formula that's completely invisible on all skin tones. The velvety-soft texture sinks into your skin, bringing frankincense, red algae and meadowfoam seed along for smooth, sun-protected skin. 
This One-of-a-Kind Shea Butter
Vanilla Lavender Shea Body Butter
Courtesy
hanahanabeauty.com
$26.00
You've used shea butter before, but you've never used Hanahana Beauty's shea butter. This butter imparts ingredients from sustainable direct sourcing in Tamale, Ghana. Made in small batches with care, each jar encompasses cocoa butter, mango butter, grapeseed oil, avocado oil and more in a fluffy, whipped texture that melts right onto your skin in seconds for long-lasting hydration. This vanilla and lavender medley of a scent is unbelievable.
This Brightening Eye Cream
Eyes Brightening Eye Cream for Dark Circles
Courtesy
Olay amazon.com$24.99
$16.49 (34% off)
Ever noticed how eye creams are one of the most expensive skincare products on the market? Today's your lucky day because thanks to this $20 steal, you won't have to hand over triple digits for a formula that works. This eye cream brightens dark circles, smoothes wrinkles, fine lines and puffiness. The vitamin c, b3 and caffeine acts as a tall glass of water to wake up your tired eyes with hydration.  
This Luxurious Balm Cleanser
Moringa Cleansing Balm
Courtesy
Emma Hardie dermstore.com
$60.00
Treating your skin to an old-fashioned rub down with an oil-based cleanser is sometimes all you need. Emma Hardie's moringa-based balm has the works, like vitamins wild sea fennels, to shrink the size of pores, melt away makeup, and hug your skin with hydration for hours on end. It even comes with a muslin cleansing cloth to gently exfoliate and nourish the skin without stripping it of essential oils. 
This Heroic Serum
The Concentrate
Courtesy
La Mer sephora.com
$190.00
Not many serums can stand a chance against this skin savior. It's one of those top-shelf items you cherish until the very last drop because it truly works like a magic trick to reduce redness, calm inflammation, and hydrate the skin. This is a bestseller because it can't be put into a box—it just works. Whether you want to use it as a spot-treatment to erase a pimple overnight or as an all-over hydrator, the choice is yours. 
This Incredible Serum
Active Serum
Courtesy
iS Clinical dermstore.com
$138.00
Celebrity esthetician Shani Darden examined my acne-prone skin and suggested I start using IS Clinical's active serum asap. One does as Darden says (and the rest of the world, who swears by this product), and in just under two weeks I noticed a prominent difference in my pesky dark spots and less and less surprise breakouts. It's called an "Active Serum" because you can can actively feel it working on your skin. If your skin is super sensitive, I'd recommend easing into this combo of salicylic acid and herbs to see how you react to it. 
This At-Home Facial in a Bottle
Triple Berry Smoothing Peel
Courtesy
reneerouleau.com
$88.50
Many times, they tell us quick skin fixes don't happen overnight. This miracle worker completely changed my outlook on that, though, because it definitely delivers baby-soft glowing skin in minutes. This at-home exfoliant is made of pure, antioxidant-packed berries that will literally eradicate dullness and bring on a major glow. It's a perfect pre-event treatment to give yourself an at-home facial when you want a renewed radiance that'll last. 
This Dermatologist-Approved Sunscreen
La Roche-Posay Anthelios 50 Ultra-Light Tinted Mineral Sunscreen SPF 50
Courtesy
La Roche-Posay ulta.com
$33.50
With all of the FDA's regulations and changes to safe sunscreen, it's smart to lean on tried-and-true protectants that are boasted as the very best. This is where La Roche-Posay's Anthelios 50 Mineral Sunscreen comes in. This quick-absorbing, water-resistant, oil-free sunscreen leaves behind an universal tint fit for all skin tones  and uses a cell-ox shield technology to protect skin from overexposure to the sun. 
This Cream for Darker Tones
Darker Skin Tones Face Cream
Courtesy
Dr. Barbara Sturm sephora.com
$215.00
Meet the moisturizer of my wildest dreams. As a woman of color who is heavily concerned with dark spots and post-inflammatory hyperpigmentation, I take claims to fade dark spots very seriously. This luxury line, complete with skincare products made specifically for darker skin tones, is endorsed by Angela Bassett and Jada Pinkett Smith—both of whom have ageless, unicorn skin. This light-weight consistency has African botanical ingredients and lumicol to stop excess sebum flow, amp up radiance, and even out the complexion. 
This Lifting Eye Serum
Skin Caviar Eye Lift Serum
Courtesy
LA PRAIRIE nordstrom.com
$485.00
You'd be fibbing if you didn't admit how appealing a non-surgical eye lift sounds when puffy, saggy, and tired-looking eyes are your normal. However, they don't have to be. This dual-phased eye serum features a ton of actives, caviar beads, and a gel-to-cream emulsion to literally lift the eye contour area and give you bright and bushy-tailed eyes—even when you're running on zero hours of sleep, and I'm proof because I tried it.  
This Praise-Worthy Serum
C E Ferulic
Courtesy
SkinCeuticals dermstore.com
$166.00
If you've ever wanted to work wonders on your skin, you need this do-it-all serum stat. Loved by dermatologists, beauty editors, and aestheticians alike, this powerful potion is no joke when it comes to protecting, brightening, and maintaining a youthful glow to the skin. It's made with a concentrated amount of vitamin C (15-percent, to be exact), along with vitamin E and ferulic acid to keep environmental stressors at bay keep your skin nourished and immune to the BS.  
This Extra-Hyped Moisturizer
The Rich Cream
Courtesy
Augustinus Bader neimanmarcus.com
$265.00
Skin enthusiasts everywhere have spoken: this moisturizer's hype is real. Its magical powers come with a triple digit price tag for a reason: the formulation was mastered by 30-year skin cell research expert professor Augustinus Bader, who created a trigger factor complex to speed up your skin's cells. The result is an especially rich, whipped texture ideal for reversing dry skin, visibly reducing fine lines and wrinkles, strengthening the skin's moisture barrier, and more. 
This No-Fuss Moisturizer
No Worries Hydrating Face Moisturizer
Courtesy
Dr Roebuck's sephora.com
$45.00
Bells-and-whistles skincare is cool and all, but sometimes you don't need a moisturizer that does your taxes and calls your grandma. Sometimes, you just want a good, lightweight, moisturizer that doesn't require a PhD to use. Behold: the No Worries lotion. It moisturizes with hyaluronic acid, rosehip, and macadamia oil, and it absorbs almost immediately, so you never feel sticky.
This Easy Peasy Self-Tanner
Self Tanning Drops
Courtesy
Isle of Paradise sephora.com
$29.00
It is a truth universally acknowledged that all sunless-tanning products are messy, smelly, and patchy. Except for these drops. Not only are they fresh-smelling and easy to apply (just mix a few drops in with a palmful of lotion), but their tinted hues double as color-correctors, canceling out unwanted undertones for a natural-looking glow. Pick pink for fair skin, green for medium skin, and violet for dark skin.
This Beauty Sleep Miracle Worker
Promise Keeper Overnight Facial
Courtesy
Allies of Skin dermstore.com
$120.00
Yes, this little tube of serum is hella expensive, but when it has the ability to clear up acne in under 48 hours (like it did for one of our editors), the price becomes easier to stomach. The formula is filled with gentle pore-clearing and bump-smoothing acids, along with a major dose of hyaluronic acid and caffeine to hydrate, plump fine lines, and reduce puffiness, all at once. Apply a thin layer to clean, dry skin overnight, then wake up with amazing skin in the morning.
This Rich and Gentle Moisturizer
Tolerance Extreme Cream
Courtesy
Avene dermstore.com
$38.00
Ask me what my favorite beauty product is, and I'll launch into a Shakespearean sonnet about this cream before you can finish the question. But it's not hyperbole—the formula is simple (only seven gentle, non-irritating ingredients that won't break you out) and incredibly moisturizing, making it a holy-grail product for dry, sensitive skin types.
This Spot-Lightening Serum
C-Firma Vitamin C Day Serum
Courtesy
Drunk Elephant sephora.com
$80.00
In case you haven't heard, vitamin C is the bee's knees of ingredients, according to every single derm we've ever spoken to. Why? Vitamin C gobbles up the skin-damaging free radicals you're exposed to every day, giving you brighter (like way, way brighter), smoother, and more hydrated skin. And this little number from Drunk Elephant contains a gentle, yet effective, 15-percent concentration of the good stuff.
This Repairing Moisturizer
Squalane + Probiotic Gel Moisturizer
Courtesy
Biossance sephora.com
$52.00
Squalane (not to be confused with squalene, a skincare ingredient derived from sharks that can cause you to break out) is an insanely moisturizing molecule that exists in your own body, but in small quantities. Biossance found a way to derive it from sugarcane, making it pore-friendly, incredibly soothing, and—when mixed with a bunch of probiotics, like in this lightweight gel moisturizer—a total skin-repairing powerhouse.
This Firming Night Cream
High Potency Night-A-Mins Renewal Cream
Courtesy
Origins amazon.com
$39.99
No matter how much abuse your skin has endured in your lifetime (we know you slept in your makeup last week, and we're still not okay with it), it'll feel pretty much new again after you slather on this cream for a few nights. The little jar regularly sells out online, which is likely due to its high-powered mix of natural fortifiers that firm skin, tighten fine lines, and calm redness, fast.
This Exfoliating Cleanser
Regenerating Cleanser
Courtesy
Tata Harper amazon.com
$84.00
This all-natural exfoliating cleanser is one of the best of the best, not only in the green community, but in the cleanser community in general. The reason? It has the ability to gently dissolve dead skin cells and gunk, while also clearing pores with a mix of water-soluble oils and enzymes, all of which work together to stave off breakouts. Oh, and did we mention it smells like an ethereal garden of happiness? Yeah, that too.
This Anti-Aging Eye Cream
Lumiere Bio-Restorative Eye Cream
Courtesy
Neocutis dermstore.com
$97.00
You heard it from us first—actually, you probably already heard about it from your dermatologist, because it's that damn good—this expert-recommended eye cream hydrates with hyaluronic acid and smooths fine lines with a mix of vitamins A and E.
This Oil-Controlling Lotion
Counter Balance Oil Control Hydrator
Courtesy
OleHenriksen sephora.com
$36.00
Finding the right moisturizer when you have oily skin can feel like a game of Risk. But this lightweight lotion takes the guesswork out of the process, since it's specifically formulated with botanical mattifiers to soak up excess oil without breaking you out.
This Ultra-Gentle Face Wash
Milky Jelly Cleanser
Courtesy
Glossier glossier.com
$18.00
Wipe away grime and makeup in approximately 30 seconds with this pH-balanced gel formula that touts five super-hydrating skin conditioners. And, fun fact, the cleaning agents are the same as those found in your contact lens solution, so you never have to worry about eye irritation.
This Redness-Reducing Moisturizer
Cicapair Tiger Grass Color Correcting Treatment SPF 30
Courtesy
Dr. Jart+ sephora.com
$18.00
The struggle is real when you have perpetually red, reactive skin, so Dr.Jart+ created a color-correcting treatment that makes your green concealer obsolete. Its main ingredient is tiger grass, an inflammation-soother that restores moisture levels in dry, irritated skin.
This Skin-Smoothing Treatment
Sunday Riley Good Genes Treatment [1 oz (30 ml)]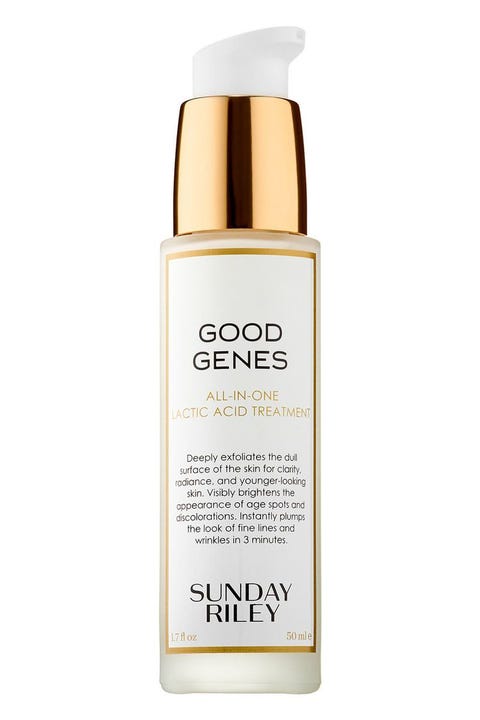 Courtesy
Sunday Riley dermstore.com
$85.00
Yes, this is expensive, and yes, you're going to have some doubts about shelling out the money, but after approximately one week, your crazy-smooth, soft, and clear skin will have made up for the price a billion times over. This cult-favorite night treatment is 5 percent lactic acid, an AHA that gently exfoliates skin on a cellular level to clear clogged pores, plump fine lines, and fade dark spots and acne scars.
This Line-Smoothing Essence
Facial Treatment Essence
SK-II sephora.com
$99.00
This pricey toner may seem like it's just nice-smelling water, but the magic is in its main ingredient, Pitera—a yeast derivative rich in vitamins, minerals, amino acid. Researchers at SK-II discovered Pitera after noticing that the hands of sake makers at a brewery in Japan looked startlingly youthful and smooth. Imagine what this essence can do to your face with daily use.
This Lightweight Facial Oil
100-Percent Pure Argan Oil
Courtesy
Josie Maran amazon.com
$49.00
Fast facts about argan oil: It's a dream for oily skin, since it helps rebalance sebum levels, it's lightweight, so it won't feel greasy on your face, and it's packed with vitamin E, antioxidants, and fatty acids, which help repair and protect your skin barrier from damage. No wonder this little oil is a cult favorite, right?
This Hydrating Cleansing Oil
Pure One Step Camellia Oil Cleanser
Tatcha sephora.com
$48.00
Throw away your makeup wipes: This cleansing oil uses camellia and rice bran oils to dissolve even waterproof mascara and long-wear foundation in seconds, leaving you with cleaner, softer, less irritated skin.
This Micellar Water
Sensibio H2O Soothing Micellar Cleansing Water
Courtesy
Bioderma amazon.com
$14.90
The gentle-as-water makeup remover that was once only found in European pharmacies is now available at drugstores everywhere. And that's a good thing, because its mild formula manages to calm even the most irritated of skin, without drying it out.
This Wrinkle-Reducing Moisturizer
Cell Renew Hydro-Plus Overnight Moisturizer
Courtesy
stemologyproducts.com
$75.00
A whole lot of science went into creating this moisturizer, but all you really need to know is that in less than a week, your skin will look and feel plumper, smoother, and shockingly more hydrated, thanks to time-released hyaluronic acids, shea butters, and natural retinols.
This Brightening Toner
Glow Tonic
Courtesy
Pixi amazon.com
$29.00
We rejoiced when this British product—which regularly sells out in the UK—was finally available stateside. High-quality ingredients like aloe vera, ginseng, and botanical extract leave your skin extra glowy, and its alcohol-free formula will never, ever dry you out.
This Oil-Zapping Mask
Supermud Clearing Treatment
Courtesy
Glamglow amazon.com
$44.55
This Instagram-favorite mask uses a blend of six skin-clarifying acids to prevent breakouts and blackheads, all while leaving oily skin looking matte and smooth. And we say that's super, indeed.
This Softening Bath Oil
Olio Lusso
Courtesy
Rodin nordstrom.com
$136.00
For a beauty splurge that's actually worthwhile, try Linda Rodin's celebrity-loved oil. Add a few drops of the jasmine and neroli formula to your bath to give dry skin a boost of moisture that'll last long after the tub drains.
This Healing Mask
Black Tea Instant Perfecting Mask
Courtesy
Fresh nordstrom.com
$92.00
Not only does this creamy, kombucha-infused mask smell like warm tea, but it's also fortified with sake and lychee-seed extract to brighten and soften skin with continual use.
…
For more stories like this, including celebrity news, beauty and fashion advice, savvy political commentary, and fascinating features, sign up for the Marie Claire newsletter.
subscribe here
This content is created and maintained by a third party, and imported onto this page to help users provide their email addresses. You may be able to find more information about this and similar content at piano.io