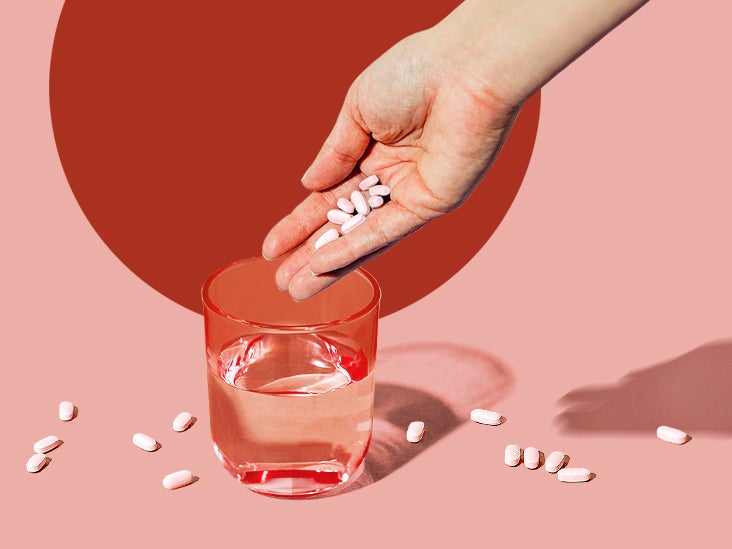 We include products we think are useful for our readers. If you buy through links on this page, we may earn a small commission. Here's our process.
While it's no secret that certain supplements can improve your health, not all vitamins and minerals are created equal.
In fact, some brands are pumped full of fillers, additives, and unhealthy ingredients that can do more harm than good when it comes to your health.
It's important to choose a reputable brand that has undergone third-party testing and is sourced from quality ingredients. Doing so can ensure that you're getting a supplement that's pure and potent and can be used by your body efficiently.
Here are the 10 best vitamin brands to help meet your nutritional needs.
A note on price
General price ranges with dollar signs ($ to $$$) are indicated below. One dollar sign means the product is rather affordable, whereas three dollar signs indicate a higher price range.
Since this article recommends different types of vitamins, a direct price comparison between products is not possible, as prices may vary by category and dosage.
Generally, prices range from $0.04–$1.00 per count, or $9–$50 per container, though this may vary depending on where you shop.
Klean Athlete is a high quality supplement brand that was founded by athletes for athletes.
The company manufactures a range of products, including probiotics designed to help support better digestive health.
Probiotics are a type of bacteria found in the gut that has been linked to a long list of health benefits, including improved immune function, enhanced digestion, and lower cholesterol levels (1).
The Klean Probiotic, in particular, is formulated with a blend of eight specific strains of probiotics and free of fillers and additives.
It's also certified by NSF International, a third-party organization that sets strict standards for the quality and safety of supplements.
For best results, take one capsule daily with food, or use as directed by your healthcare practitioner.
Price: $$
Shop for Klean Probiotic online.
Nature Made is a company committed to producing high quality supplements using a science-based approach.
It offers vitamin D3 supplements in doses ranging from 400–5,000 IU, depending on your nutritional needs.
Supplements are available in gummy, tablet, and liquid softgel form to suit your personal preferences.
They are also verified by United States Pharmacopeia (USP), an independent organization that ensures that supplements meet strict guidelines for safety and quality.
In addition to increasing calcium absorption, vitamin D may improve blood sugar control, immune function, heart health, and more (2).
Be sure to consult a healthcare professional to determine the right dosage for you, and take capsules with food to increase absorption in the body (3).
Price: $
Shop for Nature Made vitamin D3 products online.
In addition to producing a variety of widely available and affordable supplements, Kirkland Signature formulates some of the highest quality vitamins and minerals on the market.
In fact, their vitamin B12 supplements have been verified by the USP to ensure purity and potency.
Vitamin B12 is essential for DNA synthesis, energy production, and disease prevention (4).
Because it's found primarily in animal foods, vegans and vegetarians may need to take a vitamin B12 supplement to ensure that they are meeting their nutritional needs (5).
Adults should take one 5,000-mcg tablet daily. Simply place one tablet under your tongue and let it dissolve for 30 seconds before swallowing.
Price: $
Shop for Kirkland Signature's vitamin B12 supplement online.
Life Extension is a popular brand that offers high quality supplements, each of which undergoes extensive third-party testing.
They produce a range of products, including glucosamine/chondroitin capsules, which are designed specifically to support long-term joint health.
Both glucosamine and chondroitin have been shown to relieve pain, improve physical function, and reduce stiffness in those with osteoarthritis, also known as degenerative joint disease (6).
All Life Extension products are manufactured in facilities certified by NSF International and provide a certificate of analysis upon request, which provides detailed information to ensure transparency and quality.
You can take one glucosamine/chondroitin capsule up to eight times daily alongside food to help promote joint health and provide relief from symptoms.
Price: $
Shop for Life Extension's Glucosamine/Chondroitin capsules online.
Amazon recently launched Amazon Elements, a line of premium supplements focused on providing consumers with a new level of transparency.
One of their most popular products designed to promote hair growth is the Vegan Biotin supplement, which is free of artificial colors, flavorings, and chemical preservatives.
Although research on the effects of biotin on hair growth has turned up conflicting findings, some studies have found that using a biotin supplement can improve hair growth in women with hair loss (7, 8, 9).
Each Amazon Elements product comes with a Quick Response (QR) code, which can be scanned to access detailed information about the purity, quality, and potency of the product.
You should take one 5,000-mcg capsule daily to support hair health.
Price: $
Shop for Amazon Elements' biotin supplement online.
SmartyPants produces prenatal vitamins that are made using sustainable, non-GMO ingredients, which are completely free of artificial flavors, colors, and preservatives and certified by the Clean Label Project.
Their premium Prenatal Formula contains several nutrients that are crucial for fetal growth and development, including omega-3 fatty acids, folate, and vitamins B12, D, and K.
Folate, is particularly important, as it can reduce the risk of neural tube defects in the fetus during pregnancy (10).
Studies show that taking a prenatal vitamin during pregnancy could also be associated with a lower chance of having several conditions, such as autism and preeclampsia, as well as a lower risk of preterm birth (11, 12, 13).
According to the manufacturer, you should take four gummies per day, which can be divided into smaller doses as needed and taken with or without food.
Price: $
Shop for SmartyPants Prenatal Formula online.
Although Nordic Naturals produces a variety of vitamins and minerals, they are perhaps best known for their high quality omega-3 supplements, which are tailored to fit a range of nutritional needs.
In addition to offering plant-based omega-3 supplements, Nordic Naturals has supplements specifically for athletes, children, teens, pregnant women, and even pets.
For each of their supplements, a certificate of analysis is also available upon request.
Omega-3 fatty acids have been linked to a long list of benefits and can help promote healthy aging (14).
They may also reduce inflammation, which can be especially beneficial for those with autoimmune disorders like rheumatoid arthritis (15).
While the dosage can vary based on the specific omega-3 supplement you choose, it's best to take capsules with food to optimize absorption and prevent side effects.
Price: $–$$$ (depending on product type)
Shop for Nordic Naturals omega-3 supplements online.
Thorne Research is a supplement company that uses high quality ingredients free of contaminants, fillers, and heavy metals.
All products are manufactured in a facility that is certified by NSF International and the Therapeutic Goods Administration (TGA), which is the regulatory body in Australia responsible for assessing the safety of supplements.
Thorne Research produces Basic Bone Nutrients, a supplement that contains several key micronutrients necessary for bone health, including calcium, magnesium, and vitamins D and K.
Studies show that increased intake of magnesium and vitamin K may be tied to increased bone mineral density and a reduced risk of fractures (16, 17).
Meanwhile, vitamin D increases the absorption of calcium, which is important for maintaining skeletal health (18).
It's recommended to take one capsule of Basic Bone Nutrients one to four times daily with food to help maximize absorption.
Price: $$
Shop for Thorne Research's Basic Bone Nutrients online.
Metagenics is a high quality supplement company that manufactures a variety of vitamins and minerals, including multivitamins.
Metagenics prioritizes high quality ingredients and transparency, even allowing you to access a detailed report of quality testing information for your specific supplement based on the lot number.
There are a variety of multivitamins available in the form of tablets, capsules, and chews. Tablets are also formulated with or without iron, depending on your personal needs and preferences.
Taking a multivitamin can not only help fill any gaps in your diet but also improve memory, boost bone density, and support healthy vision (19, 20, 21).
Ideally, multivitamins should be taken with food to help optimize absorption in the body (22).
Metagenics products can be purchased directly from a healthcare provider, or through their website using a practitioner code.
You can also find a practitioner in your area using the online tool on their website.
Price: price information unavailable
Standard Process is a family-owned company based in Wisconsin. It has been producing and manufacturing nutrient-dense supplements for three generations.
Unlike other companies, the ingredients used in Standard Process supplements are sourced directly from their organic farm to ensure the highest possible quality.
All supplements also undergo extensive testing using methods that have been approved by organizations such as the USP and Association of Analytical Communities (AOAC).
Their Whole Food Fiber supplement packs 3.5 grams of fiber in each tablespoon (6 grams) and is made using a blend of oats, beets, rice, carrots, sweet potatoes, and apples.
Studies show that increasing your fiber intake can help lower blood pressure and cholesterol levels, improve blood sugar control, and support digestive health (23).
Try adding one tablespoon of Whole Food Fiber per day to a smoothie or shake for a quick burst of added fiber.
Standard Process offers a tool on their website to help locate a healthcare professional near you who can order Whole Food Fiber and make other personalized supplement recommendations.
Price: $$$
Selecting a high quality supplement is key to maximizing its potential health benefits.
To get started, always purchase supplements that are produced by reputable manufacturers.
Be sure to also check the ingredient label and steer clear of supplements that contain high amounts of fillers, additives, and preservatives.
Certain manufacturers also provide a certificate of analysis, which is a document that details the purity and strength of a supplement and proves that specific quality standards have been met.
Some may also have a certification or seal of approval from organizations like NSF International or Consumer Labs, which are companies that conduct third-party testing on supplements to assess quality.
If you have any underlying health conditions or are taking any other medications, be sure to consult a healthcare professional before starting a new supplement to avoid negative side effects.
Useful supplement shopping guides
Check out these two articles to help you make supplement shopping a breeze:
With the myriad of vitamins and minerals on the market, it can be tricky to determine which products are worth their price tags.
Buying from reputable retailers and looking for vitamins made with high quality ingredients can ensure that you're getting the best supplement possible.
Checking the ingredient label and looking for products that have undergone third-party testing can also help you get the most bang for your buck.